Experts of Emergency Authorities of Kazakhstan, China, Kyrgyzstan, Tajikistan, Uzbekistan within the regional training are discussing issies on unmanned aero vehicles development in Central Asia to ensure territories and people safety
Experts of Emergency Authorities of Kazakhstan, China, Kyrgyzstan, Tajikistan, Uzbekistan within the regional training are discussing issies on unmanned aero vehicles development in Central Asia to ensure territories and people safety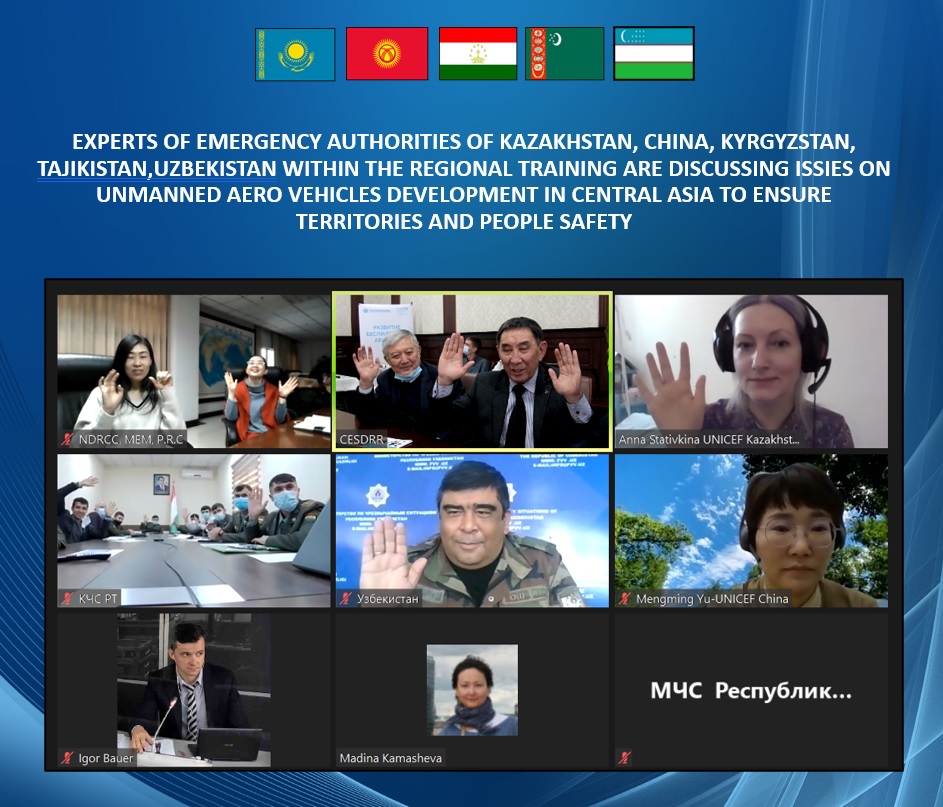 During the period from 24 to 27 November 2020 The Center for Emergency Situations and Disaster Risk Reduction (hereinafter - Center) within the frame of project of UNICEF in Kazakhstan "UAV development in order to ensure territories and people safety from disasters, including vulnerable groups for 2020" the regional training (with online translation) on UAV application, focused on disaster prevention and elimination for officers of Emergency authorities of Central Asia, China has been conducting in Bishkek, Kyrgyzstan.
During training course the participants are sharing their knowledge and experience in UAV application in their countries, as well as jointly with trainers and experts of the Center are:
conducting preflight customization of manual flight mode and features of using Software

«DJI Pilot»;

drawing up the flight plans in autonomous mode via Software

«Pix4d Capture»

and

«CTRL+DJI»

;

working out potential dangerous manoeuvres;

getting acquainted with additional software

«DJI Assistian

t

2»

working out main mistakes of early solo pilots and general measures of precaution during flight;

studying legislation in the field of flight regulation;

getting acquainted with analytical software of post-flight data processing «Pix4DMapper».
As a result of regional training is enhancing qualification of experts of Emergency authorities of Central Asia and China in UAV using, creating high-quality orthophotoplans, 3D models of constructions, digital models of relief, attitude maps.
Regional training is being conducted in compliance with hygienic rules, taking into account epidemiologic situations with COVID-19.