Regional Lessons Learnt Workshop held on the results of the USAID disaster preparedness project implementation
Regional Lessons Learnt Workshop held on the results of the USAID disaster preparedness project implementation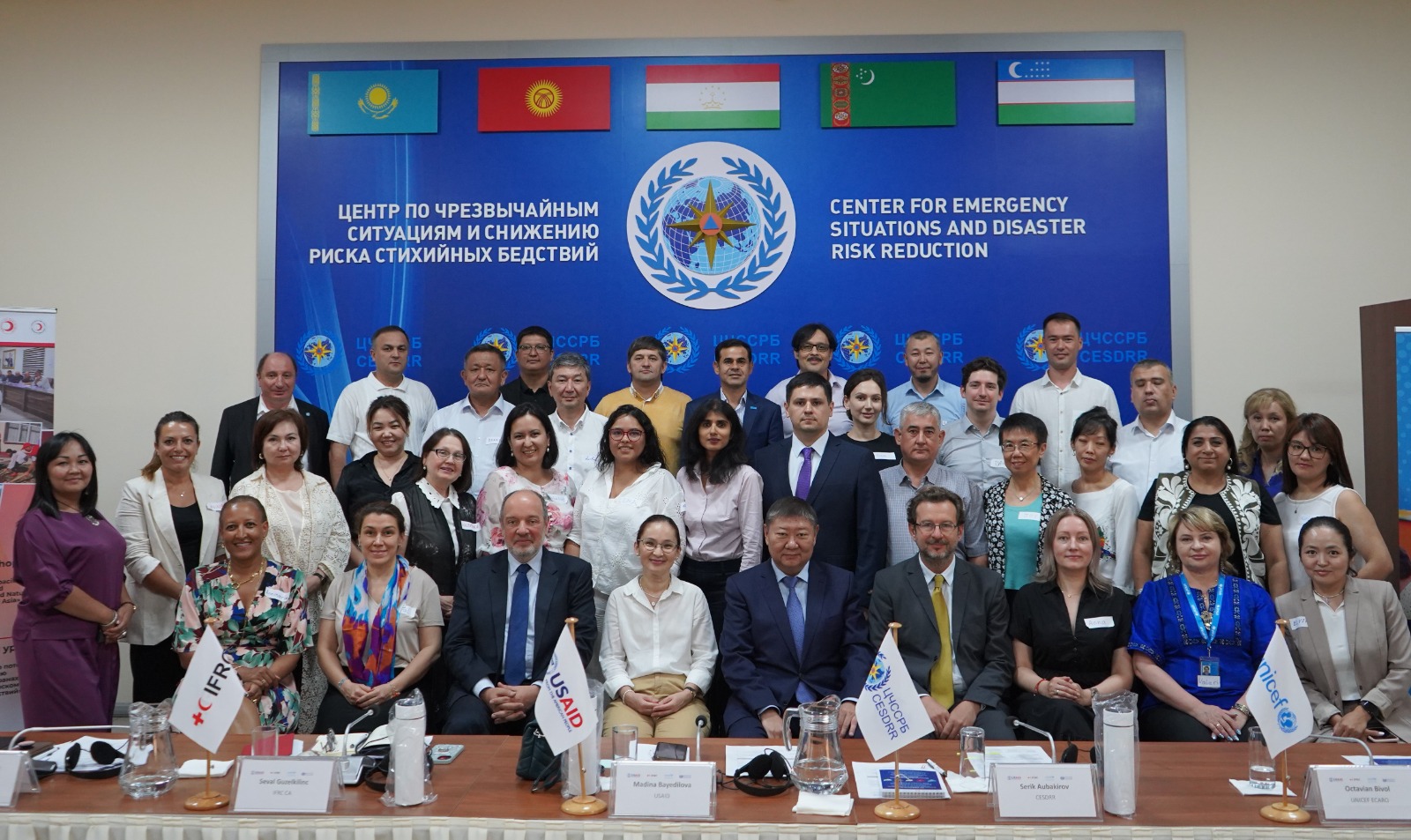 From 19 to 21 July 2023, the UNICEF Regional Office for Europe and Central Asia, the Regional Office of the International Federation of Red Cross and Red Crescent Societies in Central Asia, together with the Center for Emergency Situations and Disaster Reduction, held a Regional Workshop on Lessons Learned as part of the implementation program funded by the USAID Bureau of Humanitarian Assistance: "Strengthening Local and National Capacities for Emergency Preparedness and Response in High Earthquake and Natural hazard prone Countries of Central Asia"
The purpose of the training is to review the implementation of the above project in each five CA countries, with a focus on achievements, challenges, taking stock of achievements and challenges in strengthening disaster and climate resilience of children in Central Asia by the empowering adolescents in community and schools for disaster preparedness/climate that impacts on their lives and safety.
The target audience of the workshop was representatives of the National Red Crescent Societies of five Central Asian countries and representatives of UNICEF country offices in Central Asia.
The welcoming speech was made by the Deputy Director of the UNICEF Regional Office for Europe and Central Asia Mr. Octavian Bivol, the Head of the IFRC Delegation to Central Asia Ms. Seval Guzelkilinc, the Deputy Head of the USAID Office for Central Asia Ms. Madina Baibolova, the CESDRR director Serik Aubakirov, who noted that this event was partially a demonstration of efficient cooperation and a kind of culmination of 5-year Center's collaboration with UNICEF.
Workshop participants were given the opportunity to share and exchange strategies, mechanisms and tools to enhance disaster preparedness by developing or updating their contingency plans and agreements and pre-positioning emergency supplies in disaster-prone areas.
The Center made a number of presentations on implementation of the joint project with UNICEF and lessons learned, with a focus on vulnerable populations.
Thus, during the implementation of its component, the Center strengthened the capacity of government at the national and local levels in their commitment to children in the case of humanitarian action, strengthened the capacity on access to water, sanitation and hygiene (WASH) in the emergency, in the process completed the development of a Practical Guide on Basic Commitments for Children in Disasters, and engaged with non-governmental organizations to support local government in reducing risk and advancing a holistic approach to humanitarian action during emergencies.
The workshop highlighted the importance of supporting capacity building for water management, sanitation and hygiene preparedness (WASH), accountability to affected populations (AAP), gender mainstreaming in emergencies.
During the seminar, the participants will touch upon a wide range of important issues, such as coordinating and financing social protection measures during emergencies, improving school safety and disaster preparedness for children, involving volunteers and adolescents in emergency preparedness and disaster risk reduction.
As part of the seminar on July 19-20, 2023, bilateral meetings were held between the Director of the Center Mr. Serik Aubakirov, with the Deputy Director of the UNICEF Regional Office for Europe and Central Asia Mr. Octavian Bivol, and the Head of the IFRC Delegation in Central Asia Ms. Seval Guzelkilinc.