Regional Scientific and Technical Council discussed and worked out recommendations on incorporation of innovative information and communication technologies into disaster management of Central Asia
Regional Scientific and Technical Council discussed and worked out recommendations on incorporation of innovative information and communication technologies into disaster management of Central Asia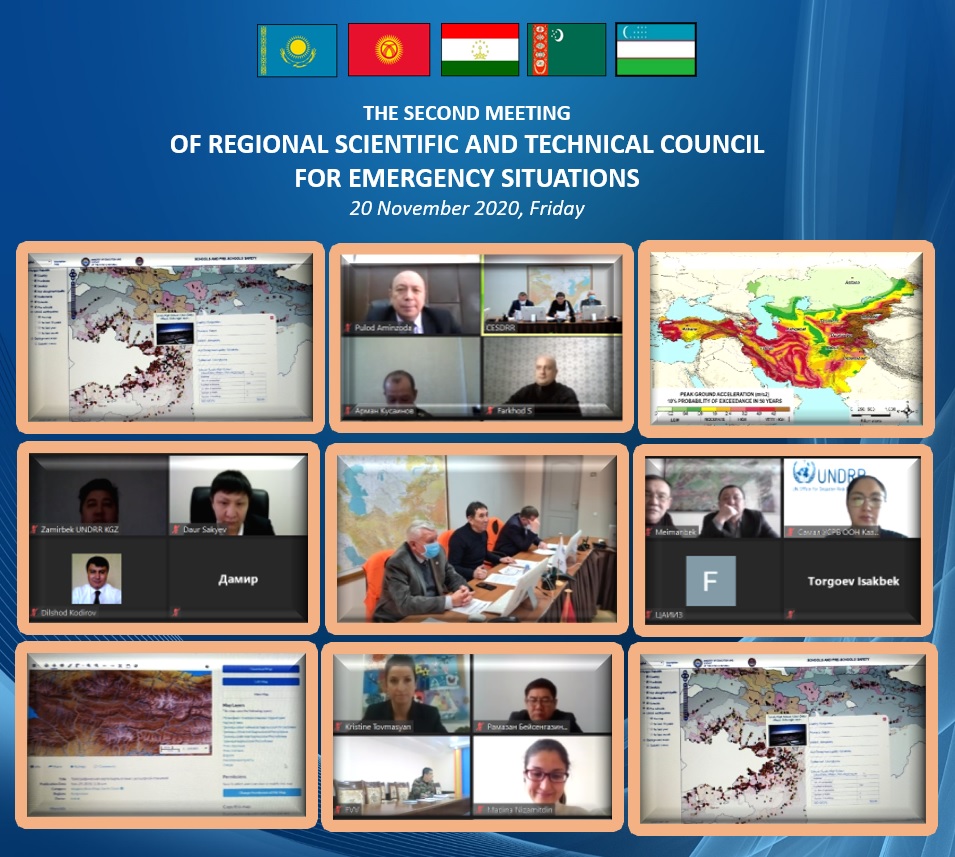 On 20 November 2020, the second meeting of the Regional Scientific and Technical Council for emergencies via online videoconference has been conducted.
The meeting, in addition to the members of RSTC, was attended by representatives of World Bank, UNESCO and UNDR.
The members of RSTC discussed proposal on incorporation of innovative information and communication technologies into disaster management of Central Asia, as well as on application of unmanned aero vehicles to ensure territory and citizen safety, and got acquainted with experience of Central Asian Institute for Applied Geoscience, Institute of Geology, Earthquake-proof construction and Seismology of Science Academy of Tajikistan, Institute of Geomechanics and Subsoil development of National Science Academy of Kyrgyzstan in researching hazard natural processes and phenomena.
Moreover, at the meeting, recommendations on implementation of World Bank project "Strengthening financial resilience and accelerating risk reduction in Central Asia", UNESCO project for mountain moraine lakes and ADB project for landslide risk reduction were discussed and developed.
During the discussion the main attention of the members of RSTC as representatives of scientific community, was paid to exchange of experience in the study of hazardous natural processes and phenomena, including earthquake risk reduction in Central Asia and the need to implement measures on integration of earthquake early warning and prevention system.
The chairman of RSTC Mr. B. Moldobekov appreciated outcomes of RSTC work in 2020 and noted the need to strengthen facilitation on enhancing regional scientific and technical cooperation between emergency authorities of Central Asian countries, international and nongovernmental organizations, scientific and educational institutions in the field of disaster risk reduction.
The next events with participation of RSTC members, representatives of Center and World Bank are scheduled on 9 December 2020 and 11 January 2021.