The Center and UNICEF starts the implementation of third phase of the project on development of unmanned aviation to ensure safety of territories and population of Kazakhstan
The Center and UNICEF starts the implementation of third phase of the project on development of unmanned aviation to ensure safety of territories and population of Kazakhstan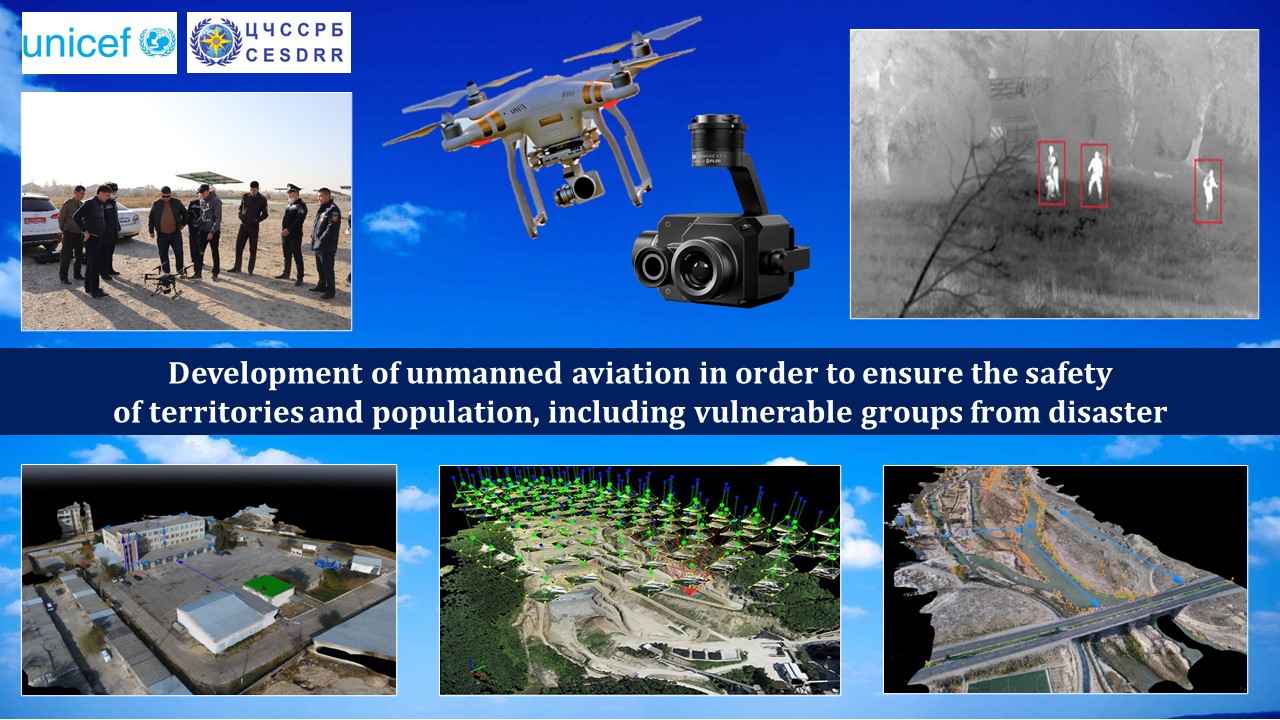 The Center and UN Children's Emergency Fund (UNICEF) are strategical partners within the frame of projects and programs in the field of disaster risk reduction, climate change adaptation and capacity building in disaster response.
In May 2021, the Center with the financial and technical support of UNICEF in Kazakhstan starts the implementation of third phase of the project "Development of unmanned aviation to ensure the safety of territories and population, including vulnerable groups from disasters".
Within the frame of this project, the Center together with other executive partners will implement measures, aimed at:
Cooperation with organizations, interested in development of UAV in Kazakhstan, including business structures;

Introduction of novel approaches to ensure the safety and survivability of children and vulnerable groups in case of emergency;

Strengthen the capacity of specialists of Emergency Authority, especially cadets of Kokshetau Technical Institute of MES ok Kazakhstan at the level of undergraduate training on the use of UAV in emergency situations;

Knowledge and experience exchange in this field at the regional level;

Introduction of the UNICEF methodology on disaster risk analysis focused on children into a training system of specialists of civil defense and representatives of local governments of Kazakhstan;

Adaption of the Guidance on the provision of psychological and social assistance to disaster victims and training of specialists of psychological and emergency medicine services;

Establishment of Zonal operational emergency response teams using the capacity of UAVs in order to promote a public-private partnership in this field;

Modernization of the situation room of the Center in order to provide live stream of the situation, happening in the operating area of operational teams, as well as in order to operational transmission of obtained data to create 3D terrain project and other interactive mapping products.
It is expected, that the implementation of this project will give a new impetus of development of a public-private partnership in the field of DRR, approaches in a protection of mental health and disaster analysis at the local level, as well as strengthen the capacity of the Center in the field of qualification improvement of specialists of Emergency Authorities and Civil Defense Services on practical skills of the use of UAV, and the efficient use of innovative ICT.