The Center was visited by the Chairman of the Committee for Emergency Situations and Civil Defense under the Government of the Republic of Tajikistan
The Center was visited by the Chairman of the Committee for Emergency Situations and Civil Defense under the Government of the Republic of Tajikistan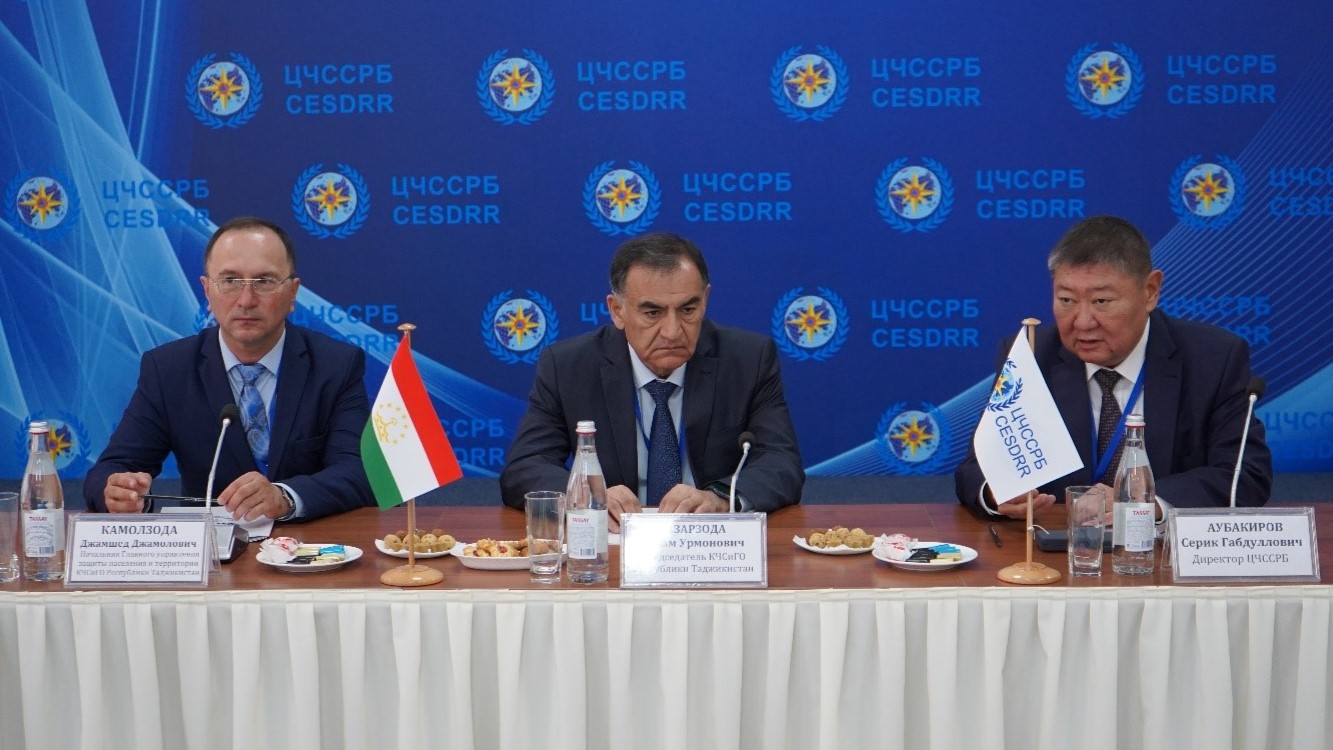 On September 28, 2023 as part of World Bank workshop on regional research"Climate change resilient and low carbon cities of Central Asia" in Almaty, the Center for Emergency Situations and Disaster Risk Reduction was visited by the Chairman of the Committee for Emergency Situations and Civil Defense under the Government of the Republic of Tajikistan, Colonel General R. Nazarzoda.
During the visit, the meeting participants got acquainted with the Center's activities, heard a brief report on the projects, that have been implemented and are currently in progress, as well as on the planned activities of the Center in Kazakhstan and Central Asia, including the progress of arrangements for the Regional Forum-Meeting of the Heads of Emergency Authorities of Central Asian countries with the agenda introduction.
Thus, the Concept of strengthening the capacity of Central Asian countries in adaptation and resilience to climate change and disaster risk reduction by creating interactive maps and digital safety passports of Central Asian countries was presented.
Head of the emergency authority of the Republic of Tajikistan emphasized the strengthened role of the Center in stimulating regional cooperation in DRR, noting the importance of coordinating joint efforts aimed at creating a Regional Coordination Mechanism for emergency response with the participation of Central Asian countries for effective and timely response to emergency situations.
The parties discussed the idea of deployment of humanitarian aid (UNICEF sanitary and hygiene kits) in warehouses of Central Asian countries to bring humanitarian assistance closer to the affected population in a timely manner .
At the end of the meeting, Mr. Nazarzoda personally invited the Director of the Center, Mr. Aubakirov, to the Asian Conference on Disaster Reduction, which this year will be held in Dushanbe on October 20, 2023 with the opportunity to share the capacity and priorities of the Center to representatives of 28 participating countries of the Asian Disaster Reduction Center in Kobe, Japan.