The officers of the Ministry for Emergency Situations of the Republic of Kazakhstan improved their skills on UAV application in order to ensure civil and territory safety
The officers of the Ministry for Emergency Situations of the Republic of Kazakhstan improved their skills on UAV application in order to ensure civil and territory safety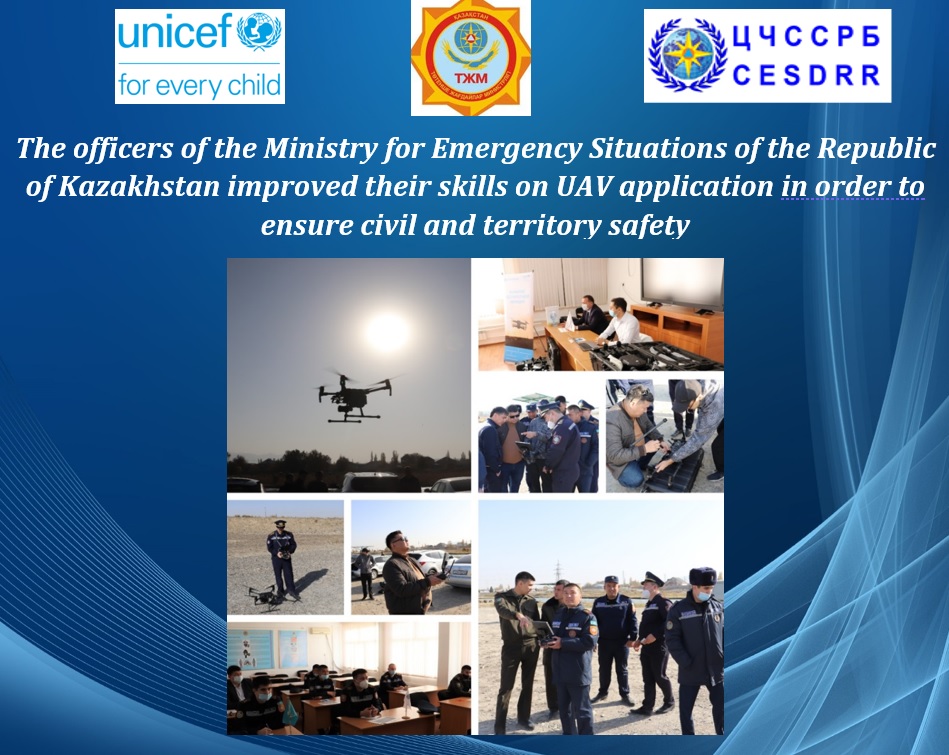 During the period from 20 to 23 of October 2020 the Center for Emergency Situations and Disaster Risk Reduction within the frame of the project of the Center and the United Nations Children's Fund "UAV development in order to ensure civil and territory safety, including vulnerable groups from disasters in 2020" conducted the regular training in Taraz city for officers of the Ministry for Emergency Situations of the Republic of Kazakhstan from South regions on UAV application, focused on prevention and elimination of man-made and natural disasters.
During the training participants jointly with trainer and Center's representatives:
conducted preflight setting-up of manual flight mode and features of controlling via Software "DJI Pilot";

drew up the flight plan in autonomous mode via Software «Pix4d Capture»

worked out potentially dangerous manoeuvres,

got acquainted with additional software «DJI Assistiant 2», «AIR map» and «UAV Forecast»;

worked out general mistakes of pilots-beginners and general precaution measures during the flight;

studied legislation in the field of regulation of air traffic on the territory of Kazakhstan;

got acquainted with analytical software of post flight data processing «Pix4DMapper»

created digital relief model and detailed orthomosaic plan on the example of the Talas river bed
As a result of training is preparation of officers of the Ministry for Emergency Situations of Kazakhstan from 4 regions on controlling unmanned aerial vehicles, drawing up high quality orthomosaics, digital terrain and relief models, attitude maps.
The event was held in compliance with sanitary and hygienic standards, taking into account the current situation with the coronavirus.