Training on real-time response simulation using training input data via early warning systems and mobile applications
Training on real-time response simulation using training input data via early warning systems and mobile applications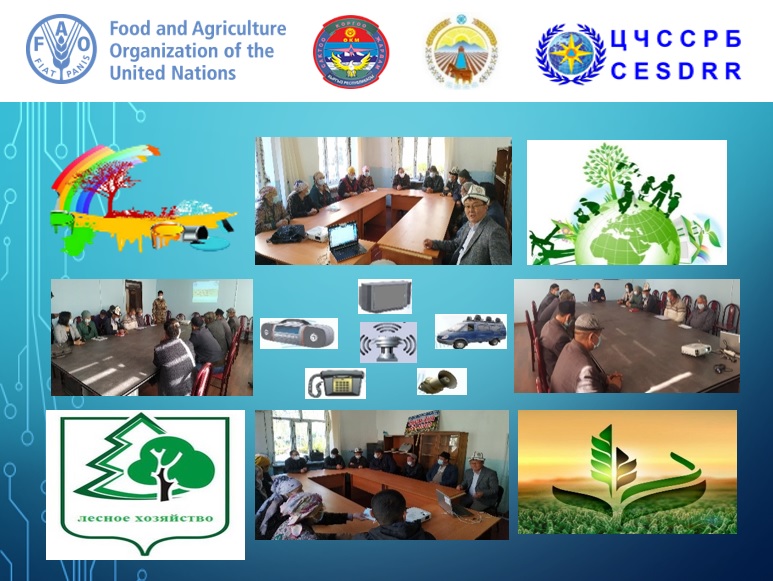 In order to implement the Letter-agreement between the Food and Agriculture Organization of the United Nations and the Center for Emergency Situations and Disaster Risk Reduction on development of the plans for disaster risk reduction and climate change adaptation on Ayil aymaks levels and drawing up the National Regular report (reports) on emergency situations and disasters in agriculture sectors on the district level in the Kyrgyz Repulbic the Center's expert jointly with representatives of the Ministry for emergency situations of the Kyrgyz Republic during the period from 19 to 21 of October 2020 made a working trip to Uzgen district of Osh region.
During the working trip within the frame of preparation for drills in pilot Ayil aymaks the following events have been conducted:
trainings in Salam-Alik and Don-Bulak Ayil aimaks on the real-time response simulation using training input data via early warning systems and mobile applications;

specification of available means for early warning, determination of ways to enhance understanding and interpretation of content and potential application;

the working meetings with representatives of the national park "Kara-Shoro", Uzgen fishery and Uzgen forestry on the issues for data specification for entering it into the plans for disaster risk reduction and climate change adaptation.
At the end of the working trip, the issues on data specification for organization of communication and warning, presence and condition of communication and warning means of district, as well as development of proposals for planning the drills have been worked out with the representatives of Department of MES of Uzgen district and Communication and warning services of district.