A training on the development and use of drough response plans in the Republic of Kazakhstan at the national and local levels is conducted by the Center
A training on the development and use of drough response plans in the Republic of Kazakhstan at the national and local levels is conducted by the Center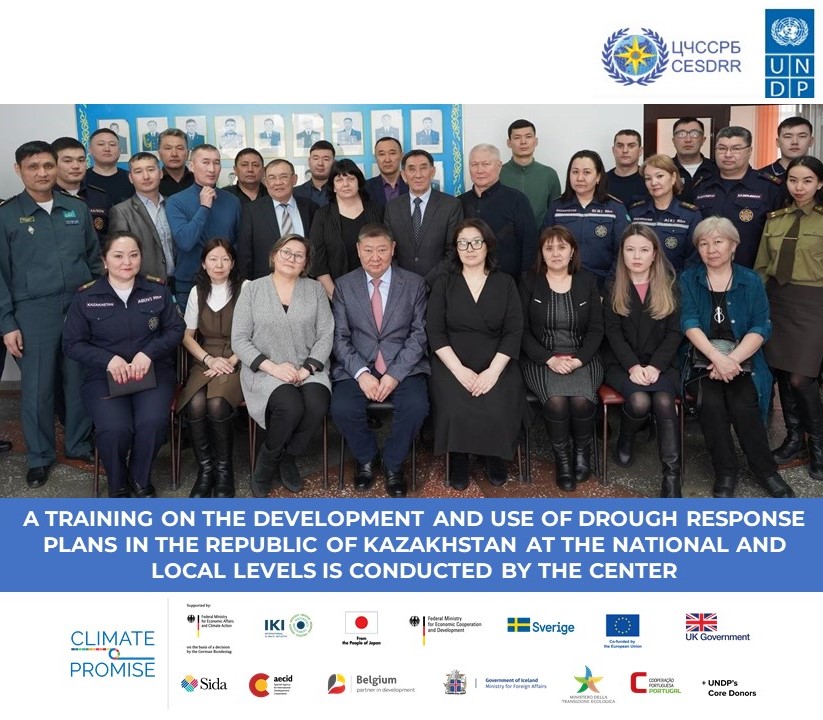 On March 1, 2023 in Kokshetau (Akmola region) on the basis of the Academy of Civil protection named after. M. Gabdullin of the Ministry for Emergency Situations of the Republic of Kazakhstan the Center for Emergency Situations and Disaster Risk Reduction conducted a training on learning and developing skills in the development and use of drought response plans in the Republic of Kazakhstan at the national and local levels as part of a joint project with the United Nations Development Program (UNDP) in the Republic of Kazakhstan.
The training was attended by representatives of the Akimat of Akmola region and district akimats, units of the Department for Emergency Situations, departments of Agriculture and Land Relations, departments of Kazhydromet and other stakeholders. 42 people is the number of participants in the training.
The participants of the training discussed the drafts of the presented documents in response to droughts in the Republic of Kazakhstan, developed by the experts of the Center during the implementation of the project.
The event was held in an interactive form, which made it possible to listen and take into account the constructive opinion of the training participants.
At the end of the training, group practical exercises were held to develop drought response skills using the example of the developed draft territorial drought response plan for the Akmola region.
The conducted training and presented materials will enhance the capacity of the Republic of Kazakhstan in forecasting and responding to droughts at the national and local levels.
It should be noted that Japan acted as the major partner of UNDP at the next stage of the implementation of the global initiative "Climate Promise: from Promise to Action". As part of the implementation, the government of Japan provided funds to Kazakhstan to fulfill national climate commitments. The UNDP Climate Promise program is the largest global initiative to support Nationally Determined Contributions (NDCs), covering more than 120 countries and territories, representing 80% of all developing countries in the world, to enhance and implement their NDCs within the Paris Agreement. Offered in collaboration with a wide range of partners, it is the world's largest offering of support to increase climate commitments and implement the Paris Agreement.