Teaching staff and cadets of KTI MES of RK improved their skills in using UAVs in purpose to ensure the security of territories and population
Teaching staff and cadets of KTI MES of RK improved their skills in using UAVs in purpose to ensure the security of territories and population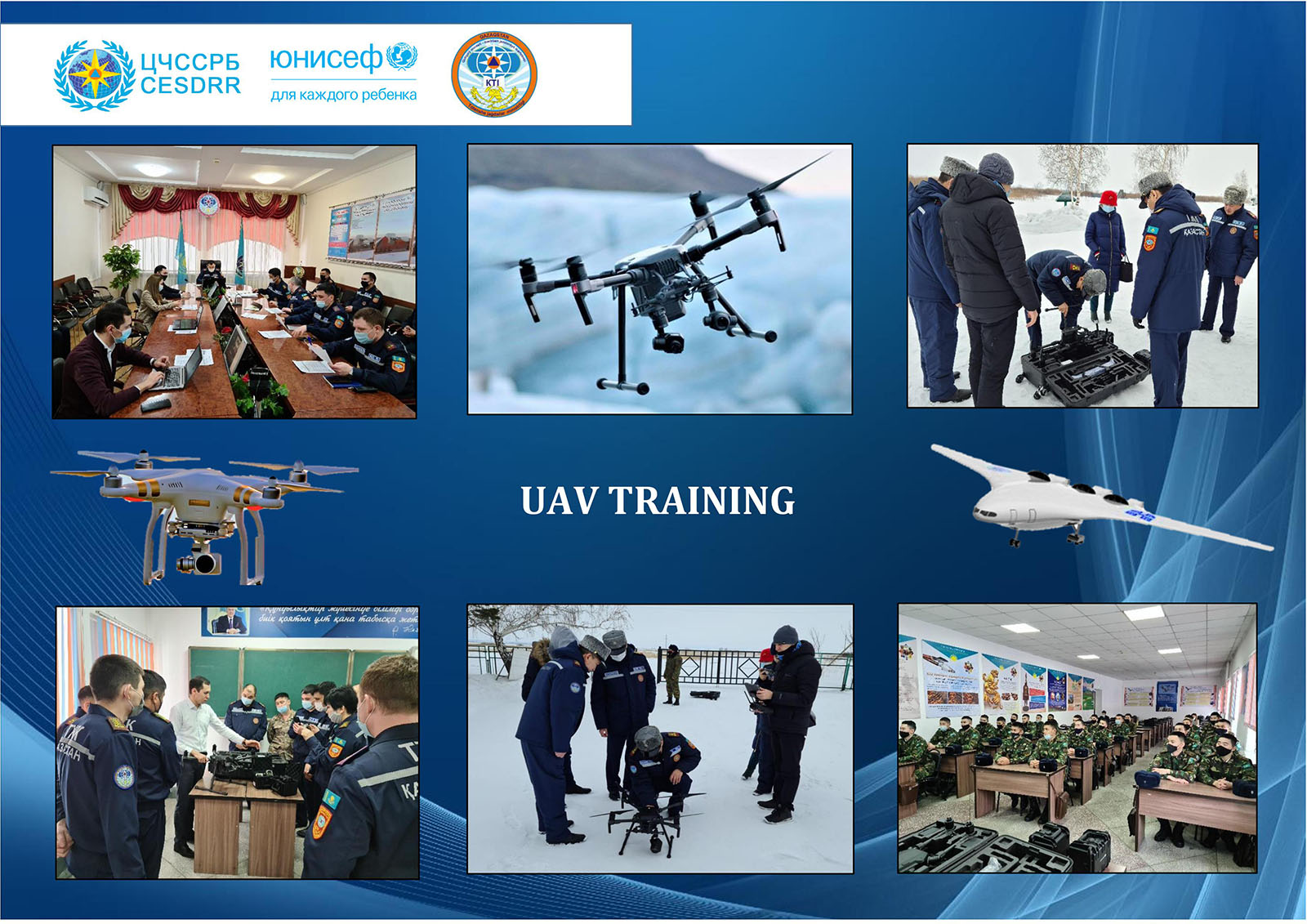 In the period from 2 to 5 February 2021, a regular training was held in Kokshetau on the use of unmanned aerial vehicles in preventing and eliminating natural and man-made emergencies» by the Center for emergency situations and disaster risk reduction (hereinafter referred to as the Center) within the implementation of the UN Children's Fund in Kazakhstan (UNICEF) project «Development of unmanned aviation to ensure the safety of territories and population, including vulnerable groups from emergencies and disasters for 2020».
The training was conducted for the teaching staff and cadets of the Kokshetau technical institute of the Ministry of emergencies of the Republic of Kazakhstan, where, along with citizens of Kazakhstan, cadets from Kyrgyzstan and Tajikistan are studied.
During the training trainees together with an international trainer and experts from the Center:
▪studied the pre-flight setting of the manual flight mode and control features in the specialized DJI Pilot software;
▪made a flight plan in autonomous mode using the programs «Pix4d Capture» and «CTRL + DJI»;
▪worked out potentially dangerous maneuvers;
▪got acquainted with the work of the auxiliary software «DJI Assistiant 2», «AIR map» and «UAV Forecast»;
▪created a digital elevation model and a detailed orthomosaic using the example of r. Kargaly, Almaty region;
▪studied the main mistakes of novice pilots and basic precautions during the flight;
▪got acquainted with the legislation in the field of air traffic regulation on the territory of the Republic of Kazakhstan;
▪got acquainted with the analytical software for post-flight data processing «Pix4DMapper».
The result of the training was the training of the teaching staff of the Kokshetau technical institute and the training of future employees of the emergency agencies of three countries, training in management of unmanned aerial vehicles, in the creation of high-quality orthophotomaps, three-dimensional models of buildings, digital terrain and relief models, elevation maps.
The training was conducted in compliance with all established sanitary and hygienic norms and rules, taking into account the epidemiological situation of COVID-19.
KTI leadership, teaching staff and cadets thanked UNICEF and the Center for organizing and conducting the training, and expressed a request to conduct a number of additional trainings on the use of UAVs, as well as on other DRR and emergency issues.