The Center started the implementation of the FAO project "Institutionalization of damage and loss assessment methodology for the agricultural sector in Kyrgyzstan"
The Center started the implementation of the FAO project "Institutionalization of damage and loss assessment methodology for the agricultural sector in Kyrgyzstan"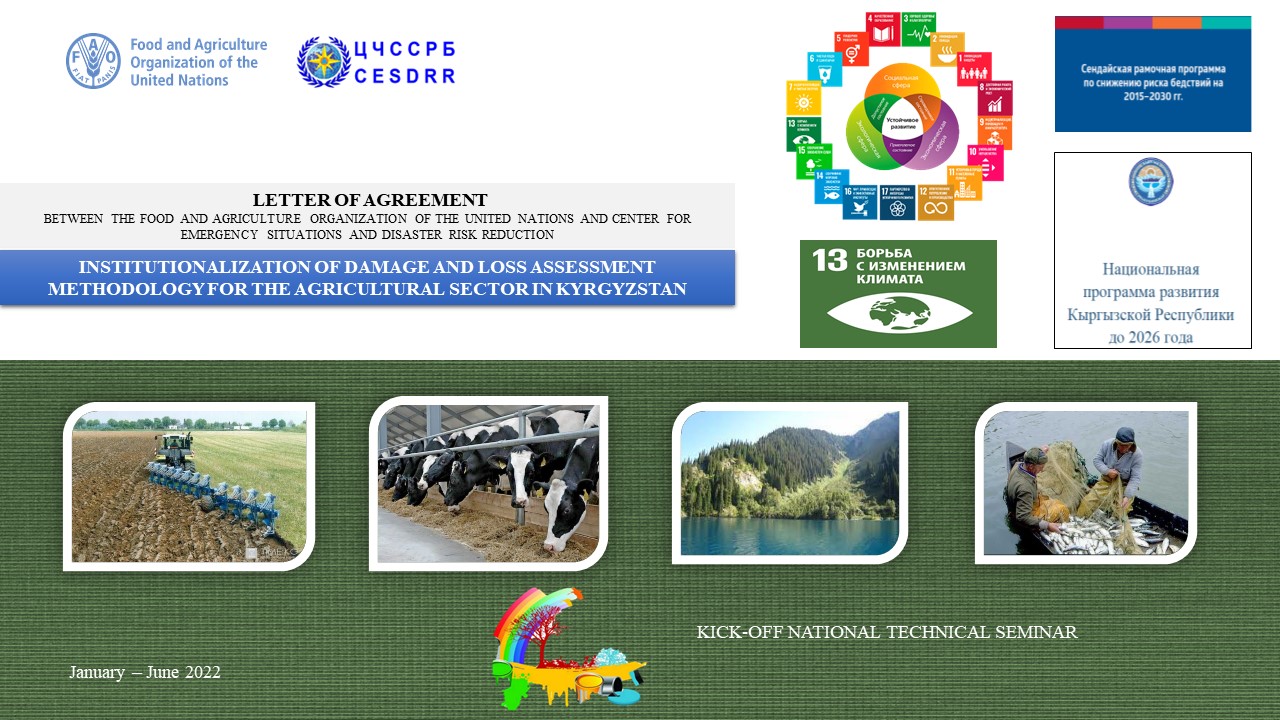 Within the frame of the Agreement between FAO and CESDRR on 11 February 2022, the Starting National Technical Workshop on the project "Institutionalization of the Damage and Loss Assessment Methodology for the agricultural sector in Kyrgyzstan" was held in Bishkek.
At the event, representatives of ministries of emergencies, agriculture, economy and commerce, natural resources, ecology and technical supervision, National Committee for Statistics, National Insurance Organization, Secretariat of the National Platform for DRR of the Kyrgyz Republic, as well as consultants and experts of FAO and CESDRR:
Got acquainted with goals, purposes, core activities and expecting outcomes of the project.

Discussed the current state of institutional and technical capacity, policies and methodologies for assessing damages and losses for the agricultural sector in Kyrgyzstan

Agreed the composition of interdepartmental working group to harmonize existing national DLA methodologies with the FAO methodology on assessment of damage and losses in agriculture, forestry and fishery.

Discussed and agreed a detailed plan for the implementation of measures to assist in the institutionalization of the methodology for assessing damage and losses for the agricultural sector in Kyrgyzstan.
More detailed information on the project is available in the attached presentations.
Annex (unofficial translation):
Presentation of the FAO project.pdf
Global PDNA level.pdf
Methodological guide.pdf